MOUNDS VIEW, Minn. — Records obtained by KARE 11 show money from mandatory fines that is supposed to combat sexual exploitation was paid instead to a private attorney as extra income.
Minnesota law requires that Prostitution Assessments paid by convicted sex traffickers and buyers – so-called pimps and johns – must be used to provide support services to survivors of sex trafficking and to train police and prosecutors to better combat sexual exploitation.
However, in what legal experts call a bonus or "bounty" for getting convictions, the City of Mounds View used a portion of its share of the fine proceeds to make extra payments to a private attorney under contract to serve as the city prosecutor.
"That is unheard of in the United States," exclaimed University of Minnesota Law Professor and former White House chief ethics lawyer Richard Painter. "We do not allow that. It's unethical!"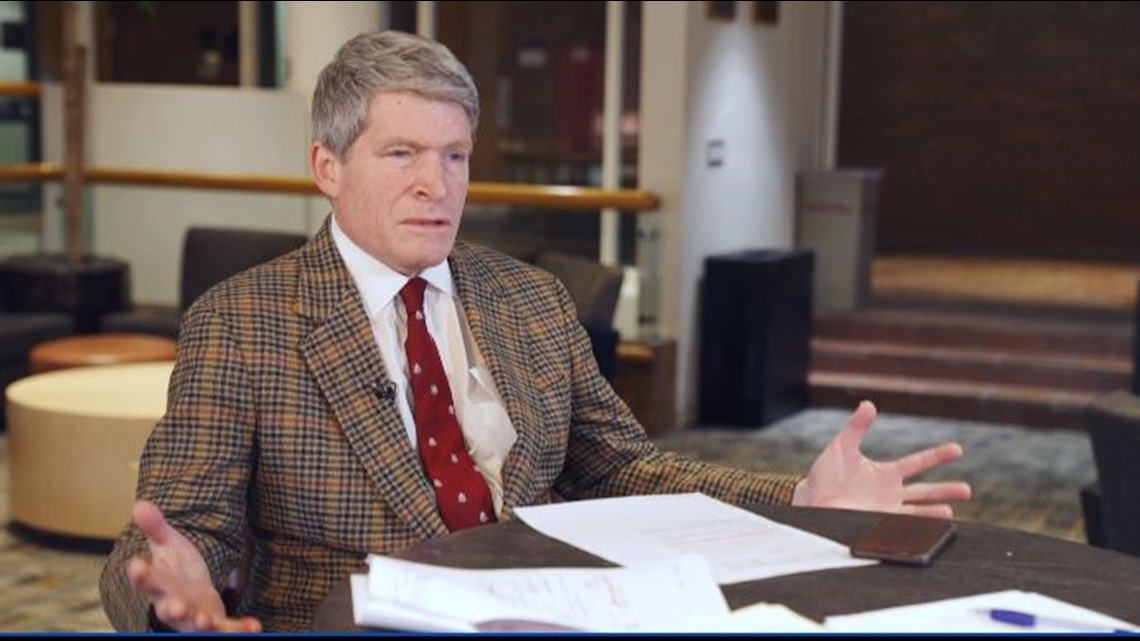 On Oct. 28, 2013, Mounds View police working with the BCA and other local police agencies conducted a prostitution sting at a motel in the suburb.
Nineteen men were arrested when investigators said they responded to online advertisements to engage in prostitution and showed up at the motel.
Ramsey County court records show most of the men were convicted after pleading guilty to agreeing to hire a prostitute 18 years of age or older.
As part of the plea deals the sex buyers signed, KARE 11 confirmed at least 13 of them were ordered to pay a prostitution assessment fine.
But records obtained by KARE 11 raise questions about how Mounds View officials used money received from those fines.
To help fund support services for sex trafficking survivors Minnesota lawmakers updated a law in 2011 mandating that all convicted sex traffickers and buyers pay a special fine.
It's called a "Prostitution Assessment" and it ranges between $500 to $1,000 depending on the specific charge.
The law states: "The court may not waive payment of the assessment," and the money is supposed to be split three ways:
40 percent goes to the arresting agency for enforcement and training to combat sexual exploitation.
20 percent goes to the prosecuting agency for education and training to combat sexual exploitation.
The remaining 40 percent goes to the state's Safe Harbor fund and is given out as grants to organizations that provide support services for sexually exploited youth.
However, a prior KARE 11 investigation revealed Minnesota courts often ignored the law and cut defendants convicted in sex trafficking cases a break by waiving the mandatory fine. KARE 11's analysis of court records from 2011 through 2017 revealed that Minnesota judges failed to impose the fine on 60 percent of sex traffickers and a third of all buyers.
What's more, when judges did impose the fine KARE 11 discovered the money that is supposed to fight sex trafficking was often missing, misplaced or misused.
But what KARE's investigation found Mounds View doing with the fine money is unique and legal experts call it deeply troubling.
Like many smaller cities in Minnesota, Mounds View does not have its own prosecutor's office. Instead they have contracts with private attorneys or private law firms to serve as city prosecutors.
At the time of the prostitution sting, Mounds View had a contract with private attorney Thomas Hughes to serve as the city prosecutor. He was paid a monthly retainer to handle cases.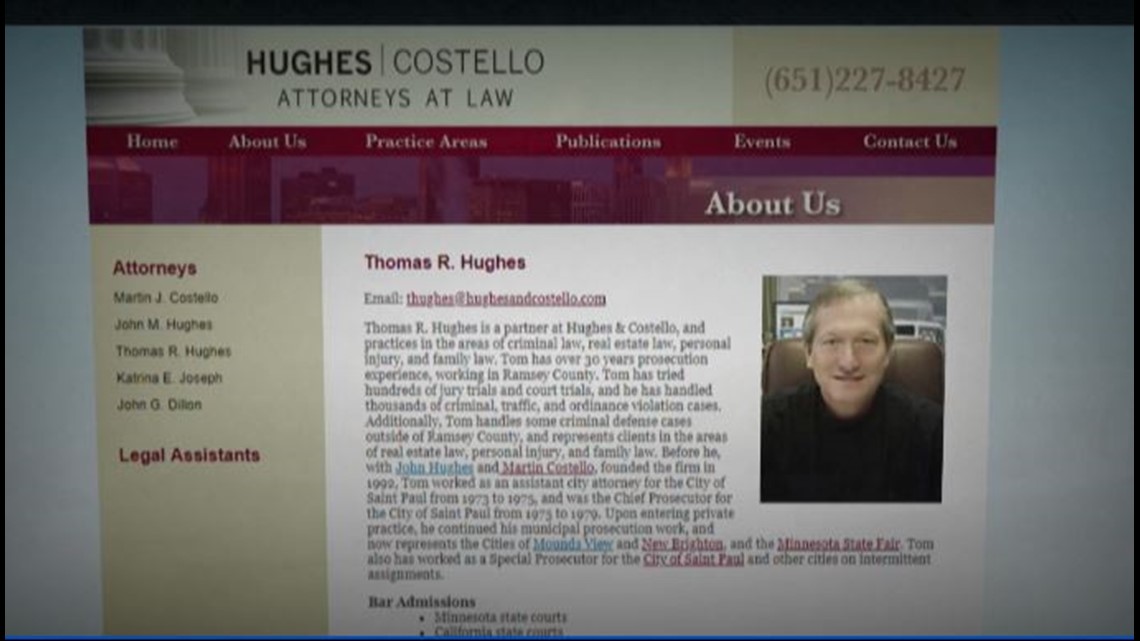 On top of that retainer, when defendants from that prostitution sting at the motel were convicted and hit with the assessment fines, records obtained by KARE 11 show Mounds View cut three checks to Tom Hughes totaling $1,380.
The city says those payments were for the 20 percent share of the prostitution assessment fines Mounds View received. Minnesota law says those funds are to be used by prosecuting agencies "in training and education activities relating to combating sexual exploitation activities of youth."
However, Mounds View gave the money to Hughes as additional income, including it on the IRS form 1099 they filed. So, Hughes was taxed on it.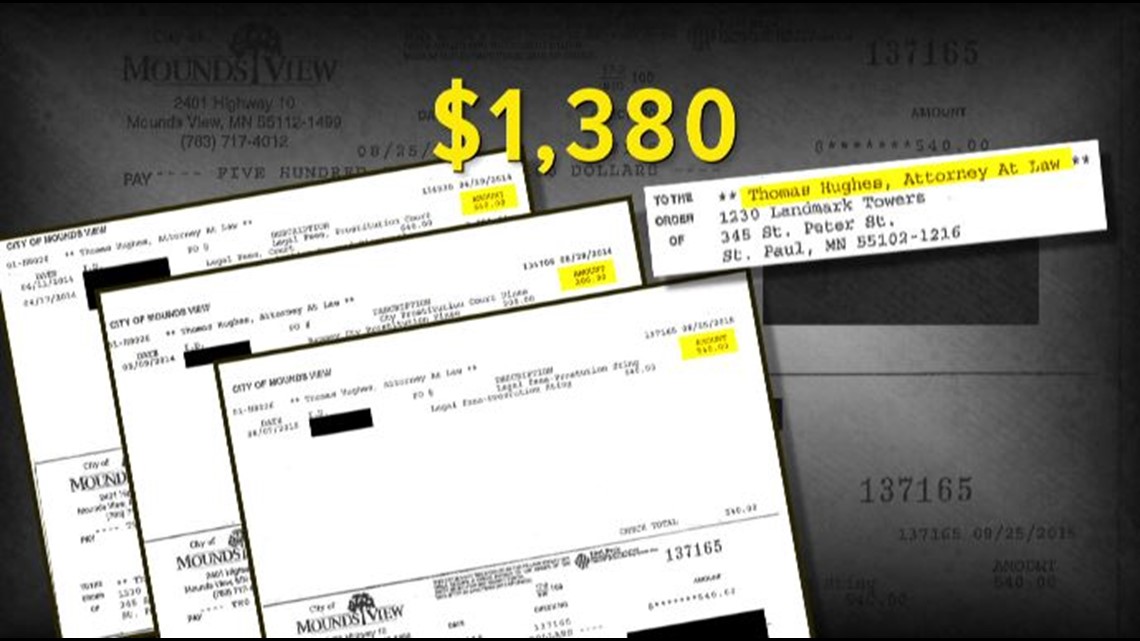 "There is no reasonable explanation for this," said Professor Painter. "We do not expect the prosecutors should be paid a bounty for the cases that they win."
"A bounty?" asked KARE 11 investigative reporter A.J. Lagoe.
"This is indeed a bounty when the prosecutor is paid a percentage of the fine," Painter replied.
"Why is this a problem?" Lagoe asked.
"Because it would encourage prosecutors to obtain wrongful convictions or to downgrade charges in return for a higher fine of which the prosecutor would receive a percentage," Painter said.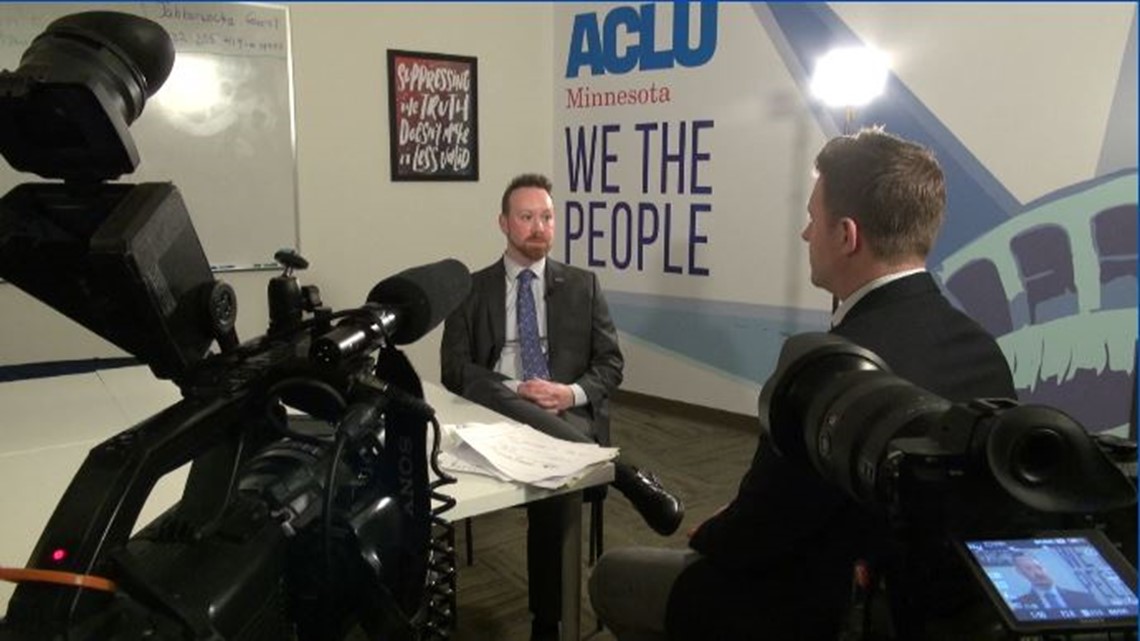 ACLU of Minnesota Legislative Director Ben Feist expressed similar concerns after reviewing the records KARE 11 uncovered.
"There's the potential for all sorts of abuse and all sorts of problems," Feist said.
Mounds View's Mayor Carol Mueller and City Administrator Nyle Zikmund declined KARE 11's request to be interviewed about the questionable payments.
Instead Zikmund sent a lengthy email which states in part, "… the City distributed a percentage of the assessment to its 'prosecuting agency' pursuant to the plain wording of the statute and it was never intended to be bonus for convictions obtained by the City's prosecuting attorney."
"That's wrong," said Representative John Lesch (D-St Paul).
Lesch, an attorney and former prosecutor, says the "prosecuting agency" in the statute is the city itself.
"Is a private attorney with a contract to prosecute, an agency?" asked Lagoe.
"No," replied Lesch. "They are a private attorney with a contract. They are in no way a government agency."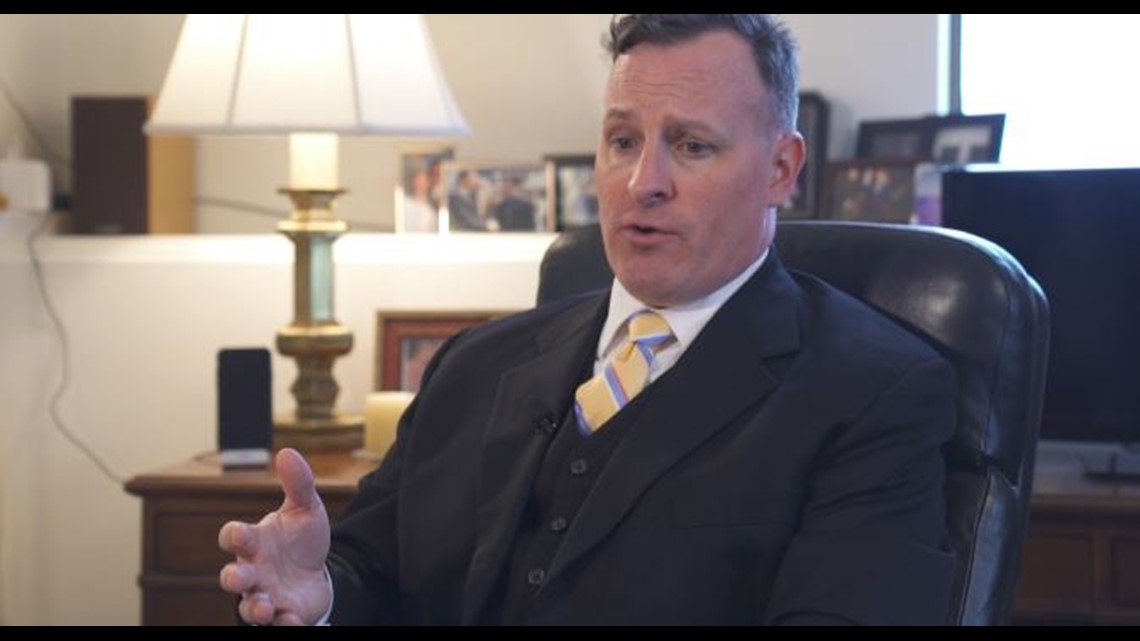 Lesch says Mounds View is dangerously misinterpreting the law by paying a portion of the fines as income to its prosecutor.
"When someone has a financial incentive to make sure that you're guilty, that casts into doubt the entire constitutional system of rights that we have," he said.
KARE 11 asked Tom Hughes, who is no longer Mounds View's prosecutor, for an interview to discuss what happened to the prostitution fine money that by law is supposed to be used to combat sexual exploitation.
To date, he has not agreed to meet with us but wrote in an email that over a period of time he donated $897 of the Mounds View fine money – the amount left over after he paid taxes – to Assumption Parish, the St. Paul church he and his wife attend.
He wrote that he did so because the church supports programs that engage in training and education of at-risk young women.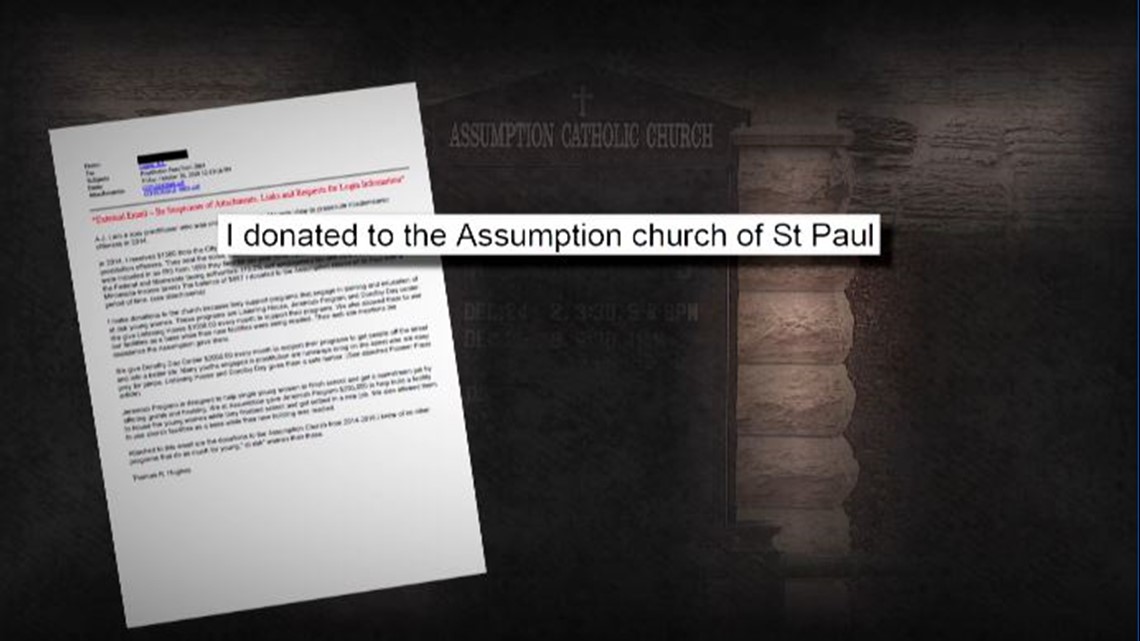 Hughes provided his church giving statements that show he and his wife regularly give $20 a week in tax deductible donations as offerings to their church.
"Is this an ethical use of those funds?" Lagoe asked Professor Painter.
"No, this is not an ethical use of the funds!" Painter exclaimed. "It is not to be paid over to the prosecutor as compensation and then used at the prosecutor's discretion for charitable donations."
Painter says he thinks the state bar association should open an ethics investigation and the prostitution fine money should be paid back.
"The funds should never have been paid," Painter said. "They should be returned by the attorney to the municipality, so those funds can be used as they are to be used under the statute."
If you want to blow the whistle on government waste or corruption or know about something else we should investigate, email us at: investigations@kare11.com