ST. CLOUD, Minn. — Graceland, this split-level home is not.
But Lis Gruber's room might just take you there.
"That's the Elvis statue," says Lis, pointing to a life-sized cutout of a svelte 1950s Elvis.
The cardboard king of rock 'n' roll is a small part of an explosion of Elvis memorabilia covering the walls and filling the shelves in Lis' bedroom.
The 31-year-old is almost as devoted to Elvis as her parents are to Lis.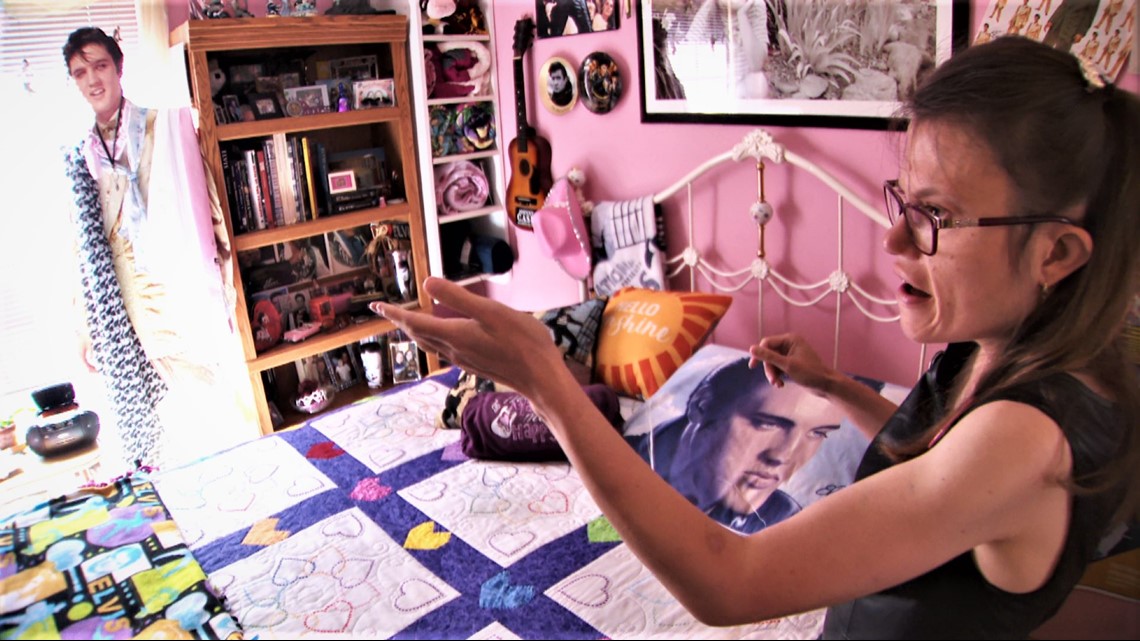 "It is velocardiofacial syndrome," Karen Gruber says of the condition that has impacted Lis both physically and cognitively.
"She's had a total of 23 surgeries," Lis' mother continues.
Karen knows firsthand the isolation children and young adults with special needs can feel.
"Their interests end up being limited and, unfortunately, same as their social group," Karen says.
Which is where Elvis came in.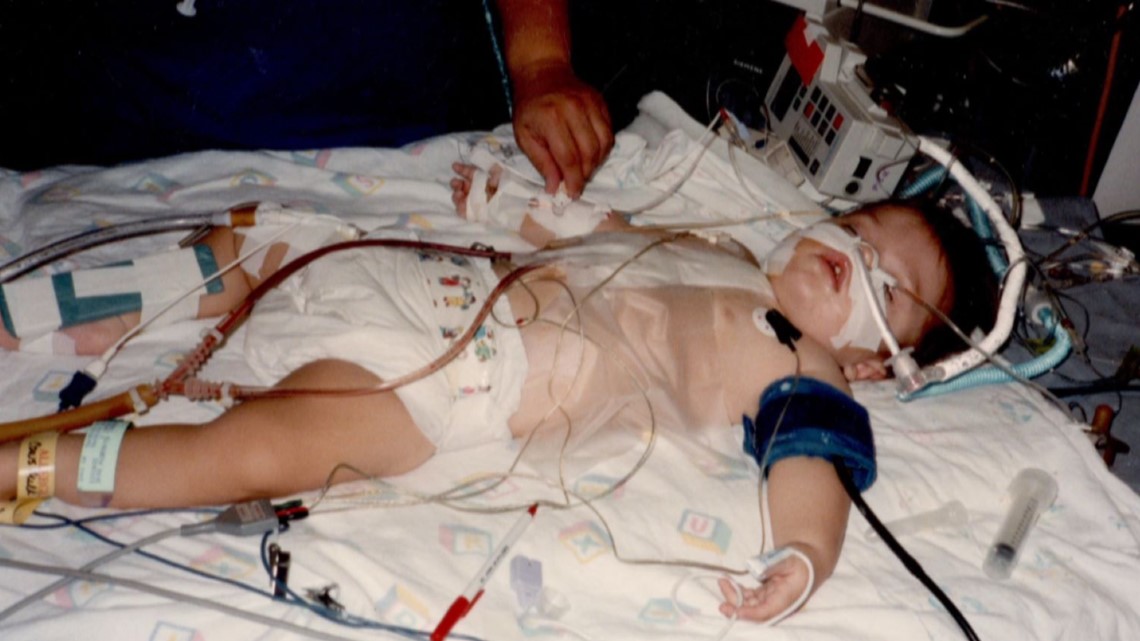 Liz was 10 when she first watched the Disney film "Lilo and Stitch" featuring an Elvis-infused soundtrack.
Sensing her daughter's interest in the music, Karen popped an Elvis cassette into Lis' tape player.
"Boom!" Karen says. "After that, all she listened to was Elvis."
Perhaps Elvis' powerful baritone cut through the void of Lis' hearing loss. Her parents can't be sure, they just know Elvis' music has been their daughter's daily companion.
Lis sits on the edge of her bed listening on her iPod to "Viva Las Vegas." She rocks back and forth, taking in every note and lyric.
"It's a comfort factor that she's always had," Lis' dad, Henry Gruber, says. "She rocks just to soothe herself."
Lis is blessed with parents who'd do anything to bring their daughter joy. This is why, on a Sunday afternoon, cars begin pulling up in front of the Gruber's St. Cloud home.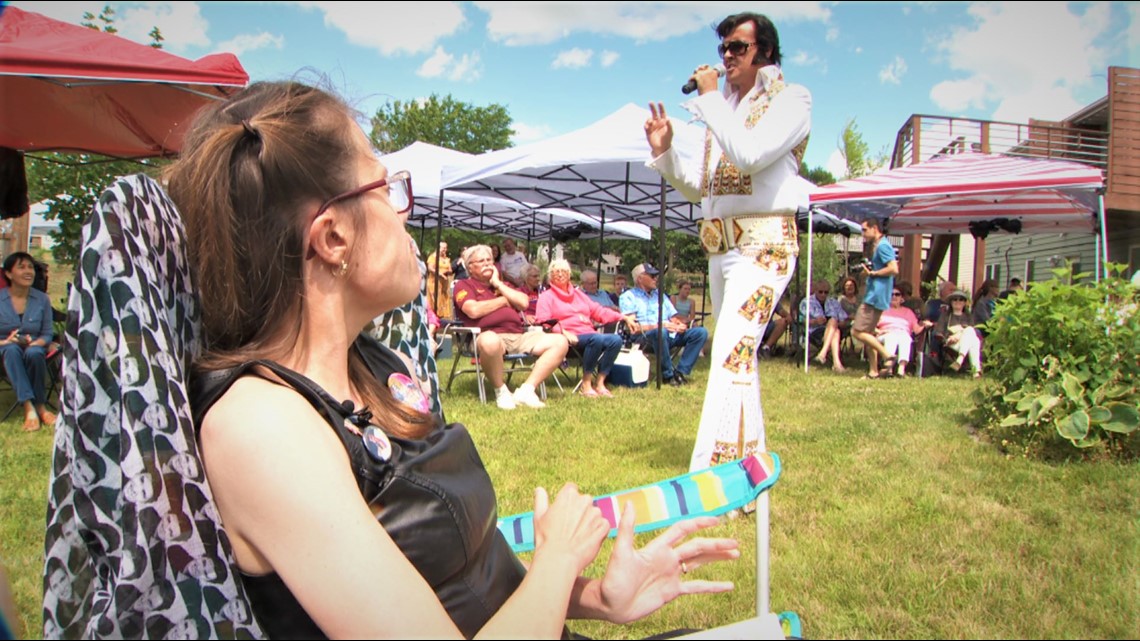 A man carrying a cooler and lawn chair heads toward the Gruber's backyard. "We're here to see Elvis," he says.
Several dozen other people are also "here to see Elvis" because Elvis is here to see Lis.
Bedazzled in a rhinestone-studded white jumpsuit, Elvis impersonator Anthony Shore emerges from the back of the Gruber's garage as the first few bars of "C.C. Rider" ramp up.
Sitting in a lawn chair, Lis occupies her own front row. Friends, relatives, neighbors, and even her bus driver, fill the space around her.
"I said see, C.C. Rider," Anthony snarls in a tribute to the singer who often opened his concerts with the song.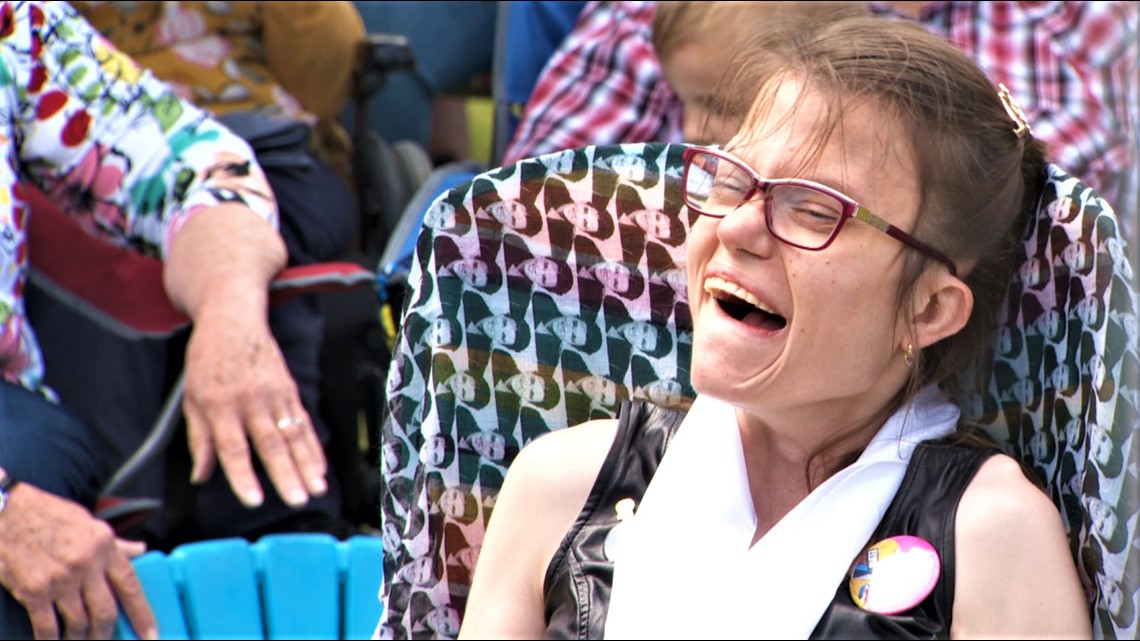 The concerts in Lis' backyard started three summers ago when her dad extended an invitation to Anthony.
Lis rocks back and forth as the bell-bottomed singer belts out the soundtrack of Lis' life.
Watching off to the side, Lis' dad says, "She's in her zone, she's enjoying it."
From time to time, Anthony hands the mic to Lis who completes the lyrics to songs she knows by heart.
"That's the most smiles I've seen on her all week and it's so good to see the smiles," Lis' mother says.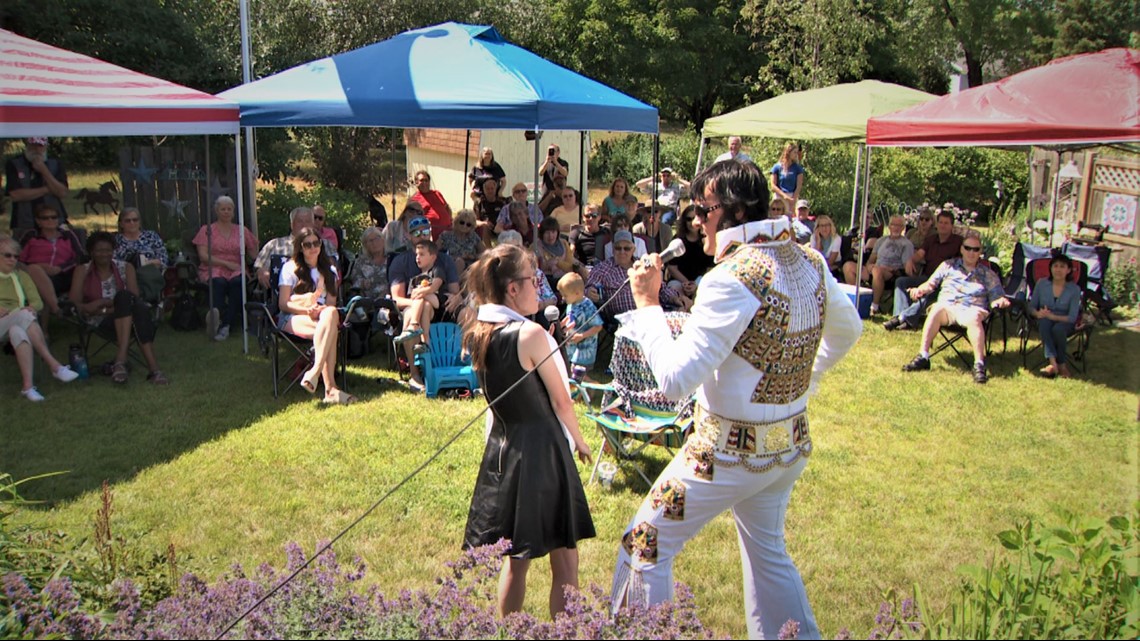 Parents of children with special needs, do their best to meet them where they are.
"That's why we do it," Karen continues.
As the first half of the show winds toward intermission, Anthony coaxes Lis from her seat to join him in singing "Suspicious Minds."
Take a bow, he tells her, as the crowd shows Lis its love.
No, this isn't Graceland.
Just a backyard – graced.
Boyd Huppert is always looking for great stories to share in the Land of 10,000 Stories! Send us your suggestions by filling out this form.
WATCH MORE ON KARE 11+
Download the free KARE 11+ app for Roku, Fire TV, Apple TV and other smart TV platforms to watch more from KARE 11 anytime! The KARE 11+ app includes live streams of all of KARE 11's newscasts. You'll also find on-demand replays of newscasts; the latest from KARE 11 Investigates, Breaking the News and the Land of 10,000 Stories; exclusive programs like Verify and HeartThreads; and Minnesota sports talk from our partners at Locked On Minnesota.