OTTERTAIL, Minn. — Cayden Hutmacher was still in elementary school when his dad asked him what kind of fish he wanted to catch next.
"I said, 'Let's just go get 'em all. Let's get every one of them,'" now-19-year-old Cayden recalls.
Chad Hutmacher, Cayden's dad, smiles, remembering the conversation.
"Eleven years later and thousands in gas and nightcrawlers, this is where we're at," Chad says with a laugh.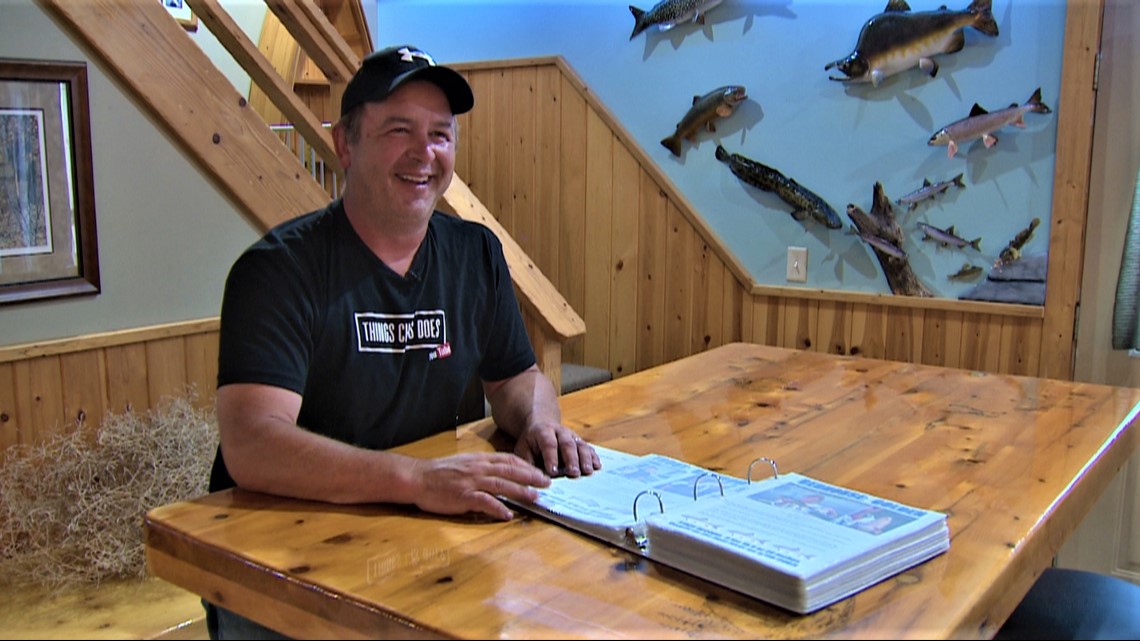 Where the Hutmachers are "at" is on display on the walls of their Ottertail home.
In Minnesota, 63 fish species qualify for state size records. Cayden has caught all but nine of them.
"All the fish have obviously been caught, but no one has caught them all," Chad says.
Cayden intends to be the first.
Starting with a small cisco when Cayden was 3 or 4 years old, Chad has documented in photos, neatly organized in a binder, his son's catches.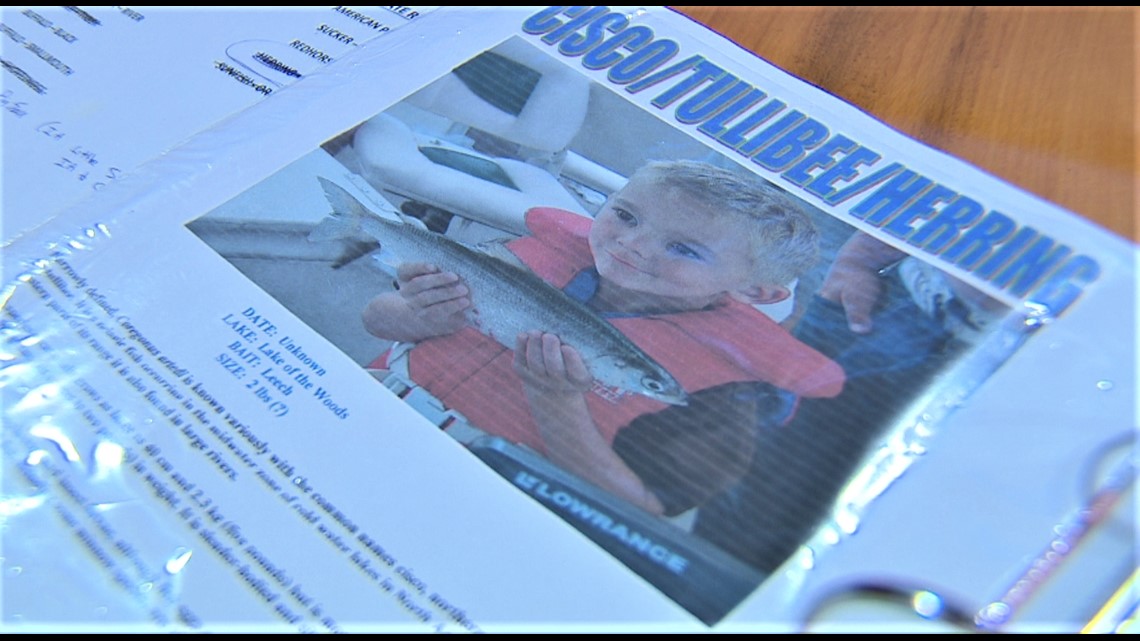 The pages include common catches like the largemouth bass Cayden caught on Auburn Lake in 2005 and the musky he landed in 2016 at Maplewood State Park.
Among his greatest prizes is the shortnose gar Cayden reeled in in 2017. The gar tipped the scale at 4 pounds, 9.6 ounces and earned Cayden a state record.
"A memorable moment," Cayden says, looking up at the plaque he received from the Minnesota DNR. "I'll never forget that one."
Cayden's dad points to a Minnesota map marked with red dots spanning the state, east to west, north to south, border to border.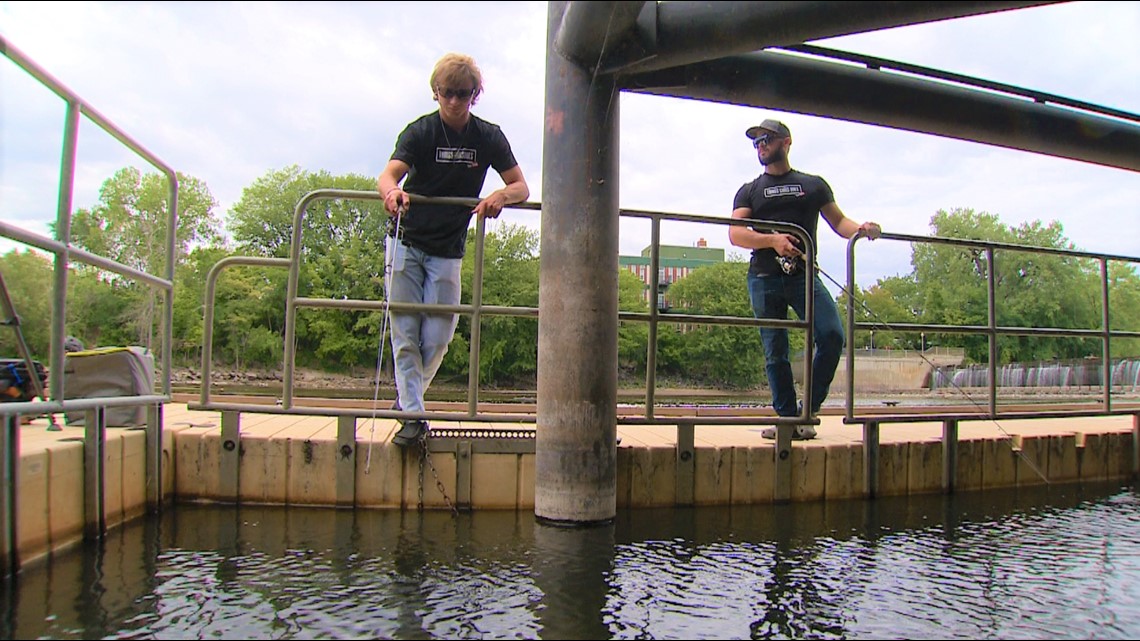 "We've literally covered everywhere in the state," Chad says. "All the low-hanging fruit has been picked, we're onto the hard stuff now."
Hard does not mean impossible.
Last fall, Cayden caught an American eel, his 54th species, on the lower St. Croix River.
A video his brother Chris shot captured the excitement of the moment.
"It's very rare; took us like six or seven years," Cayden says.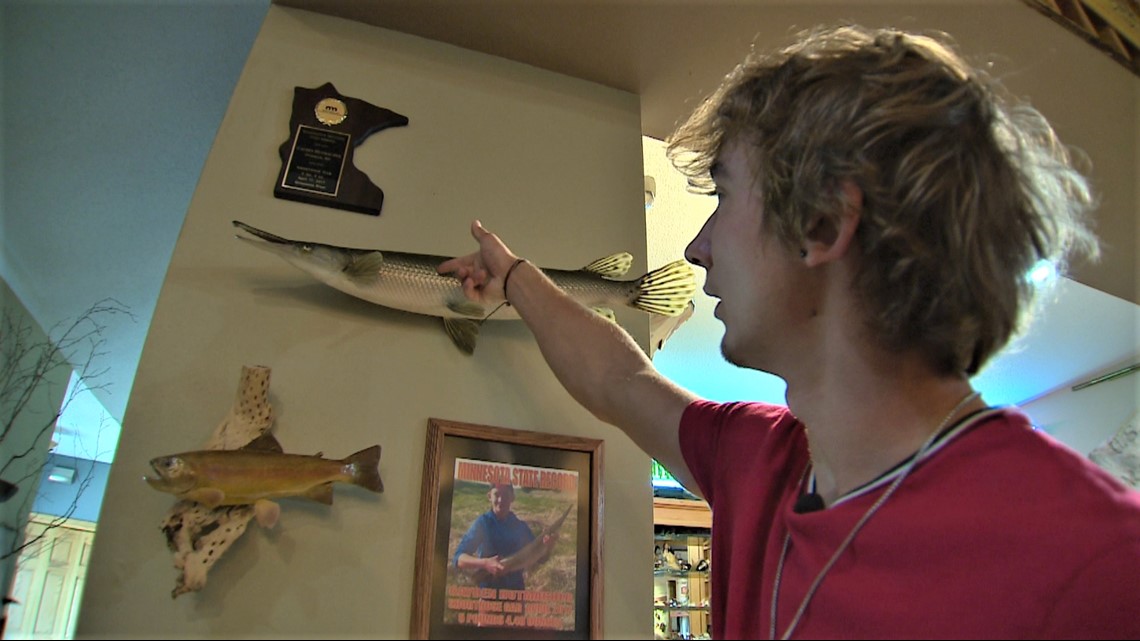 Just for fun, the trio recently traveled from Ottertail to Winona, Anoka, and the Brainerd Lakes area in a successful attempt to catch all six species of Minnesota sunfish on the same day.
Except for the record-setting gar, Cayden releases what he catches. The fish on the family room wall are all replicas painted by Cayden's dad based on the photos he took.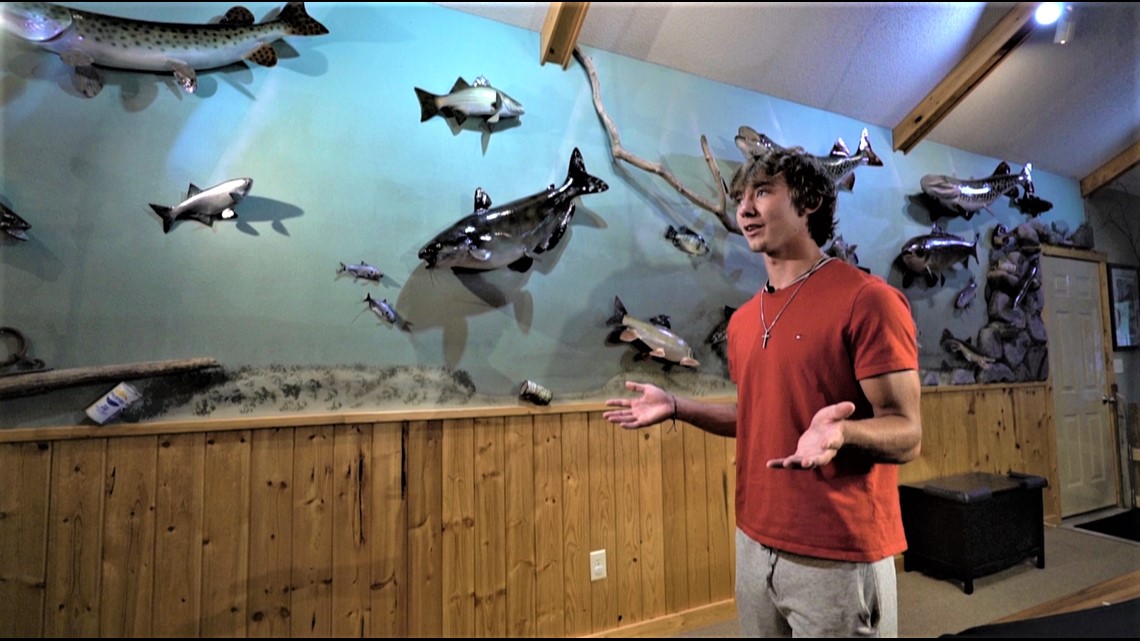 But is Cayden's goal attainable? His dad hopes so. "I don't know if he'll be able to finish it in my lifetime, because some are just that hard to catch and that rare, but hopefully he can finish it in his," Chad says.
Regardless, Cayden says the opportunity to explore the state with his dad and brother has been even more rewarding than the catches he's made.
"It's been the best part of my life, to be honest with you," Cayden says.
Boyd Huppert is always looking for great stories to share in the Land of 10,000 Stories! Send us your suggestions by filling out this form.
WATCH MORE ON KARE 11+
Download the free KARE 11+ app for Roku, Fire TV, Apple TV and other smart TV platforms to watch more from KARE 11 anytime! The KARE 11+ app includes live streams of all of KARE 11's newscasts. You'll also find on-demand replays of newscasts; the latest from KARE 11 Investigates, Breaking the News and the Land of 10,000 Stories; exclusive programs like Verify and HeartThreads; and Minnesota sports talk from our partners at Locked On Minnesota.