GOLDEN VALLEY, Minn. — Few people do any one thing for four decades.
But 2023 marks the 40th season for KARE 11's Randy Shaver and the Prep Sports Extra.
Randy kicked off this big anniversary season with the annual "PSE Promo shoot" Wednesday. He and producer/photojournalist (and football fanatic) Craig Norkus invited ten of the metro's top football players to shoot still pictures and a commercial spot that will air throughout the 2023 fall prep season.
Some dates to remember: Randy and Craig will tape their prep preview show on Aug. 16. As part of the show, Randy will unveil his 2023 preseason All-Metro team. The regular season for the Prep Sports Extra kicks off Aug. 31 and runs through the Prep Bowl championships.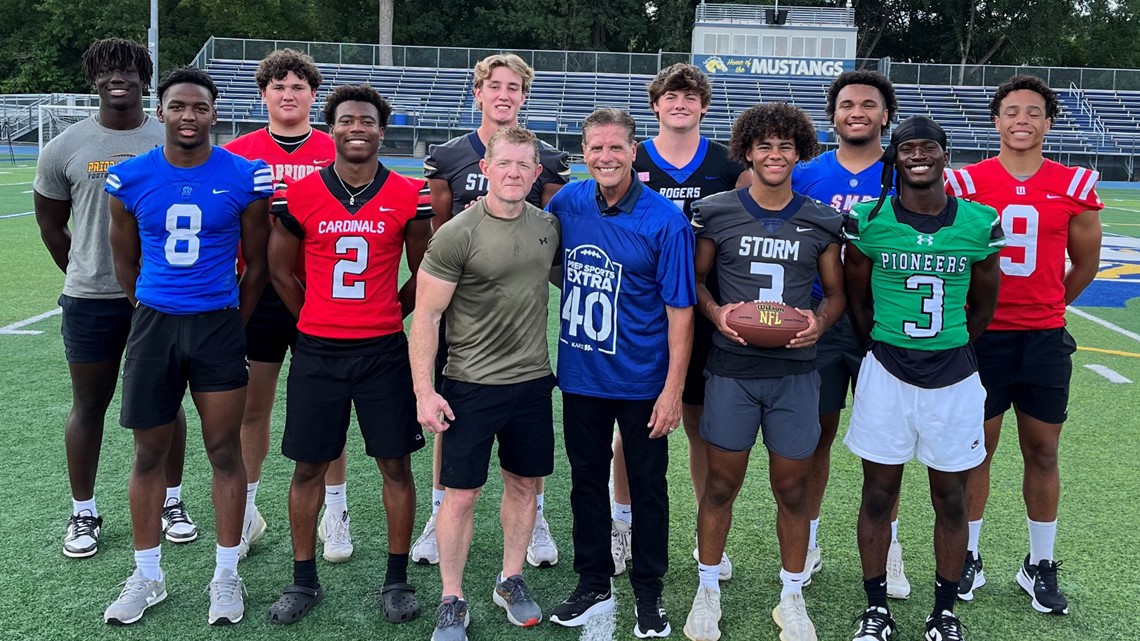 Back row (left to right): Jide Abasiri (Prior Lake), Max Mogelson (Two Rivers), Sam Macy (Chanhassen), Wyatt Gilmore (Rogers), Trent Page (SMB), Antonio Menard (Lakeville North).
Front Row (Left to right): Zashon Rich (Minneapolis North), Khijohnn Cummings-Coleman (Coon Rapids), Craig Norkus (Spotlight Producer), Randy Shaver, Maxwell Woods (Chanhassen), Simon Seidl (Hill-Murray).
WATCH MORE ON KARE 11+
Download the free KARE 11+ app for Roku, Fire TV, Apple TV and other smart TV platforms to watch more from KARE 11 anytime! The KARE 11+ app includes live streams of all of KARE 11's newscasts. You'll also find on-demand replays of newscasts; the latest from KARE 11 Investigates, Breaking the News and the Land of 10,000 Stories; exclusive programs like Verify and HeartThreads; and Minnesota sports talk from our partners at Locked On Minnesota.