ST ANTHONY, Minnesota — A Twin Cities-based podcast explores how books have the power to change lives and, in some cases, save them.
"This Queer Book Saved My Life" launched during Pride month in June 2022.
The podcast brings together LGBTQ guests to share the queer books that saved their lives with the authors who wrote them.
"Saved means a variety of different things for guests. For some, it's finding the language to come out. For others, it's navigating homophobia in the family. For others it's about, they found a way to begin their gender affirmation process. We did have one guest where it literally saved their life," said J.P. Der Boghossian, host and founder.
Der Boghossian, who lives in St. Anthony, is also the founder of the Queer Armenian Library. He said he wanted to start the podcast to work more closely with the LGBTQ community.
"The other part that builds off of that is that we've seen a massive slew of anti-LGBTQ legislation across the country. We've also seen a huge banning of LGBTQ books across the country, and we've seen a little bit of it here even in Minnesota," Der Boghossian said. "What I wanted to do is not only talk about the life-saving features, the value of these books, but also there is a quandary for queer people in finding these books."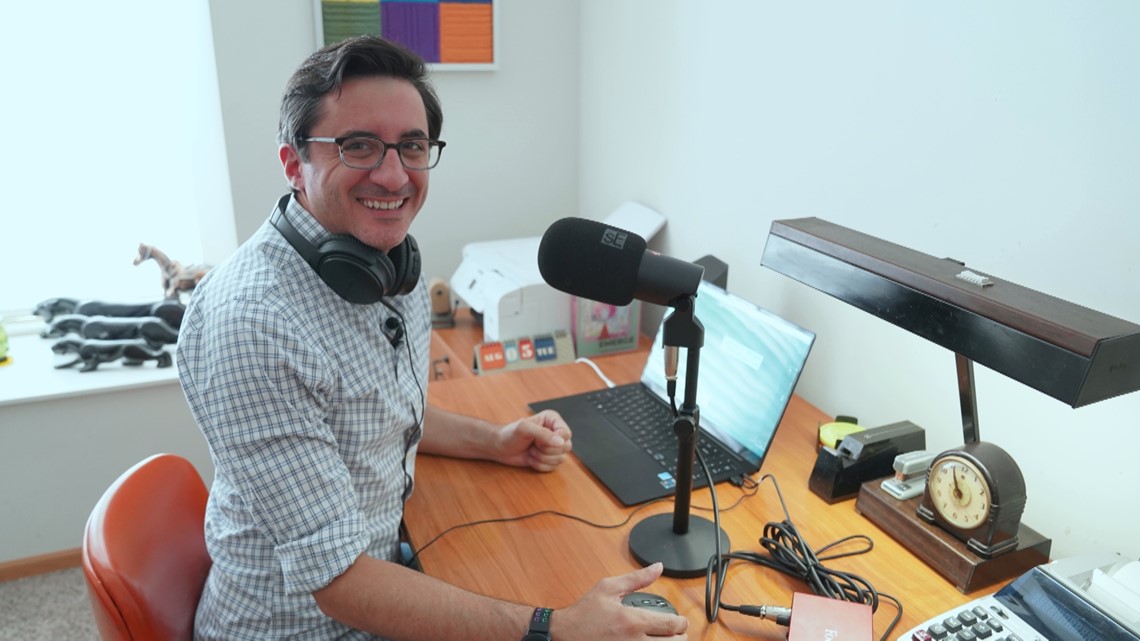 It's why Der Boghossian always asks his guests on the show how they found the books that impacted them.
Guests have chosen books by authors including Carmen Maria Machado, Alison Bechdel and Greg Louganis.
"When we started the podcast, I had no idea that in a few months I would be sitting down with four-time gold medalist Greg Louganis who I literally watched dive as a young kid myself," Der Boghossian said. "Talking to Greg about his memoir that he wrote and then to be in that conversation with our guest for that episode... it was just this really surreal, beautiful moment."
The podcast is also a chance to get the author's perspective on writing these stories.
This "Queer Book Saved My Life" has made it onto Apple's top 40 charts across the globe. Der Boghossian's partner, Jim Pounds, serves as executive producer for the show.
"When I started it, I didn't realize how global it was going to go but we are doing really well in Canada and Australia, in addition to the United States," Der Boghossian said.
Der Boghossian will be featured on a panel at Unstoppable Stories: A Banned Books Festival outside of Washington D.C. at the end of the month.
A new season premieres Sept. 19. The first conversation will be between Minneapolis Jazz singer Leslie Vincent and Michelle Tea — author of "Valencia."
You can listen wherever you get your podcasts. You can also find episodes and transcripts, here.
Know a local business we should feature for our Behind the Business segment? Email Heidi Wigdahl at hwigdahl@kare11.com.
WATCH MORE ON KARE 11+
Download the free KARE 11+ app for Roku, Fire TV, Apple TV and other smart TV platforms to watch more from KARE 11 anytime! The KARE 11+ app includes live streams of all of KARE 11's newscasts. You'll also find on-demand replays of newscasts; the latest from KARE 11 Investigates, Breaking the News and the Land of 10,000 Stories; exclusive programs like Verify and HeartThreads; and Minnesota sports talk from our partners at Locked On Minnesota.